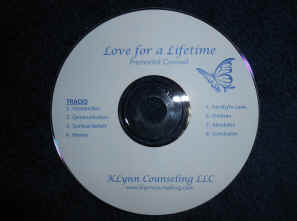 Premarital CD - Love for a Lifetime (PM01)
In this CD Karen and her husband Bob address the issues that couples planning on getting married will face. They deal with these topics directly but with humor and common sense. They give practical steps you can take to help work through these differences.
This CD is great for couples or as a supplement for those who do premarital counseling.
Relaxation CD - A Time to Unwind (RLX01)
If you are dealing with anxiety or just feeling over stressed, this CD is like having a counseling session with Karen in the comfort of your home, Find a comfortable, quiet place without interruptions. The techniques found here, when practiced regularly will help restore your sense of balance and relieve the stress of the day.
Christian Relaxation CD - A Time to Unwind (CRLX01)
This is a modified version of the above CD. It contains all of the same proven stress relieving techniques but from a Biblically based perspective. Karen created this in response to her clients who requested that a spiritual element be included. This version contains prayer and scriptures that will give you a renewed sense of God's presence in your life.
To order one or more of these CDs, please click here.